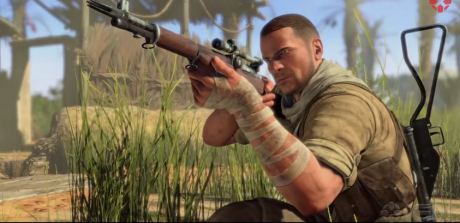 Check out the new trailer for Sniper Elite 3 – Ultimate Edition. The tactical shooter's Ultimate Edition comes bundled with nine pieces of DLC, plus six weapon packs containing various types such as the hunter, camouflage, patriot, sniper rifles, axis weapons and eastern front weapons pack.
As for the multiplayer maps, there will be a fracture, night watch, outpost canyon, plantation, lost valley and airstrip map. The three gameplays are the Shooting Range for singleplayer mode, Twilight Strike Overwatch Mission for cooperative play and Captures the Flag for multiplayer mode.
The new edition will continue the story of Allied sharpshooter Karl Fairburne who was in "Sniper 3″ that was released in 2014. Instead of a city where Nazis reside, the latest game will take place in North Africa after a big war.
"The Sniper 3″ has received good reviews especially in terms of the player's satisfaction with effectiveness of the game. The game involves preparation to strike the enemy by the use of binoculars. When the target is hit, the explosion is in a rewarding slow motion.
The preparation to fire a shot is an important process for the game. The breathing patterns of Fairburne and even the blows of the wind can affect the outcome of each shot. Aside from that, players need to use binoculars, maps and traps to ensure the success of the mission.
These kinds of features have made "Sniper 3″ unique from other military games. The only complaint from the fans was the harsh outcome when group of soldiers attack once the sniper has blown out his cover. However, the developers have addressed it by creating a more human and realistic reaction after a missed shot.
Fans can enjoy "Sniper Elite 3: Ultimate Edition" as it becomes available on March 10.