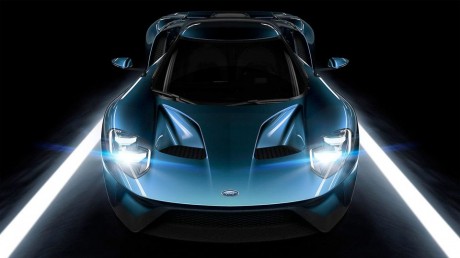 Forza Motorsport 6, exclusive to Xbox One, announced and all-new Ford GT cover car revealed at North American International Auto Show. The first announcement trailer for Forza Motorsport 6 does just that: reveals that the next installment of the Forza series is on its way… and little else.
That's to be expected from the franchise at this point, with the core gameplay and dedication to the finer points of the driving experience well-established as series trademarks. What the trailer does reveal is the first (apparent) look at the game in action, and the car set to grace its cover: the all-new Ford GT.
The development team at Turn 10 Studios and Microsoft were on hand to unveil the car to the motoring world at the North American International Auto Show in Detroit, also announcing the existence of Forza 6 (assuming there was any doubt). Coming exclusively to the Xbox One, the game's series' tenth year looks to be – in the words of Microsoft – "the busiest and biggest in Forza history".
The spotlight placed on the Ford GT in the context of the game isn't just for looks: the union between Turn 10 and Ford's performance models means players can look forward to trying out the GT, Shelby GT350 Mustang, and the F-150 Raptor in-game.If the visuals seen at the video's opening are to be expected from the finished game, then it may be another visual improvement over that of Forza 5.
Unfortunately, the Forza name doesn't carry quite the meaning it did prior to the launch of the Xbox One. Or, perhaps more accurately, it now carries a whole new message and memory with it. The game itself was a success, but the microtransaction system designed to essentially lock certain cars behind paywalls (despite the developers' claims otherwise) turned off many of even the most devoted fans.