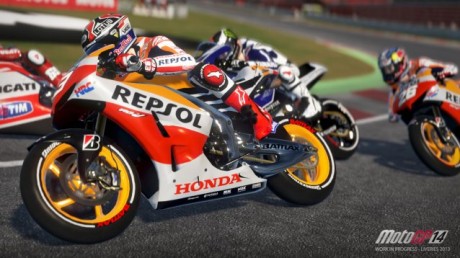 Take a quick look at MotoGP14. Bandai Namco Games America and Milestone S.r.l. have announced the release date for the upcoming motorcycle racing game, which will be available at retailers in North America on November 4, 2014 for the PlayStation 3, PlayStation 4, and Xbox 360. It will also be out as a digital download on the PS Vita and PC. Curiously, no version has been announced for the Xbox One.
Developed by Milestone S.r.l., one of the most recognized racing game developers and publishers, MotoGP 14 is set to feature more than 100 available riders, all the official manufacturers, all racing classes, and 18 tracks. The studio has worked very closely with Black Bean and have made various motorsport games since the mid-90s.
MotoGP 14 lets you customize your racing experience by letting you create a unique rider and selecting your race options.
The upcoming game, like its predecessors, is based on the official MotoGP World Championship.
Along with announcing a release date, Bandai Namco and the developer have released a teaser trailer to give you a glimpse into the improvements that MotoGP 14 brings to the long-running franchise, making it what the press release calls "the most refined entry in the series."