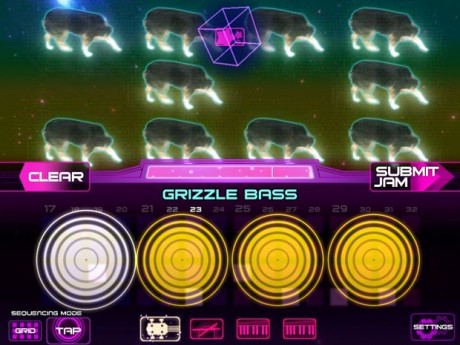 Take your first look at Cosmic DJ, available on Steam Early Access. The musical sequencer game lets people of all musical skill level create sweet jams, against some crazy stages. One stage involves launching a corgi head off into space. Seriously the visuals are nuts, just look at the announcement trailer!
If you want to get technical, iPad title Cosmic DJ is a musical sequencer. For you music nerds, there's both a step sequencer and input pads, letting you grid up or play in a multitude of instruments and sounds. But, beyond the definition, there's nothing technical about this game. It's all about fun with its corgi rockets and horse lasers and crunchy 8-bit graphics, and it's open to people of any musical skill level. Don't let the tech talk scare you off — it's super friendly.
Cosmic DJ lets you tap out beats, instruments, and even sound effects freely, by using either the sequencing grid or four tap pads. You're free to do whatever you'd like for the looping 32 beats, picking from a selection of sounds that range from plucky basses do dogs woofing, listening in as the loop comes back around. The game encourages you to experiment with sounds and patterns through prompts, and when it sees you've done enough, it moves you onto the next part of the stage, where you put in more sounds and patterns, working it up until you have a full song that can be exported and even uploaded to be shared. There are no rules, and improvisation is encouraged.
With each pattern you create along the way, a small bit of a story is revealed in one of six stages, with the music you've made serving as the underscore for the tale. These stories are pretty weird, and are accompanied by some strange and hilarious imagery.
Take the corgi stage, for example. Cosmic DJ's Kat Wenske told me that this stage was based on her own corgi, which is adorably named Potato Pancake Wisirup. CUTE! Wenske says that Potato was happy to do some green screen filming at first, but then he became a bit nervous, and you can see that in the stage's imagery.