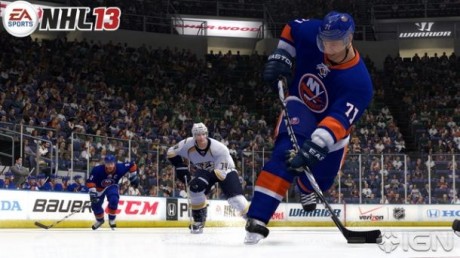 NHL 13 is EA Sports' hockey game with core gameplay innovation, connected experiences, and a deep feature set. Featuring the biggest innovation for the franchise in six years, NHL 13 will deliver a revamped gameplay experience that accurately captures the speed, creativity and strategy of today's NHL.
It will also deliver new experiences that connect hockey fans to their friends and the real world of hockey with the all-new GM Connected and NHL Moments Live game modes. With core gameplay innovation, connected experiences, and the deepest feature set ever in an EA SPORTS NHL title, NHL 13 is truly the definitive hockey experience.
NHL fans are staring down the barrel of another lost season. Team owners and the players association stand at each other's throats for the second time in under a decade, and neither side seems willing to bend. For those of us obsessed with our respective hockey teams (go Isles!) and deeply saddened by the prospect of being forced to watch the NBA, NHL 13 may be the only place we can go for respite.
And that's the first dose of good news loyal NHL fans have received in a while, because real hockey or not, NHL 13 is a fun, engaging and deep iteration of the world's best sport.
---