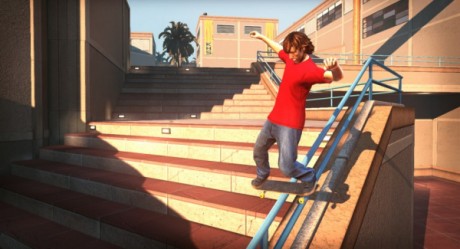 The long awaited Tony Hawk Pro Skater HD remake is already available to buy on Xbox 360, but for PS3 users, you're still going to have to wait a long time to pick up the game according to some new release information from developers Robomodo.
Man, we've missed Tony Hawk. The retired skater's digital doppelganger might have spent the last few years languishing in peripheral Hell but things started to go wrong long before that.
The Underground games strayed too far into Jackass territory with their stunts, pranks and half-naked fatties; Proving Ground got bogged down in unnecessary complications; American Wasteland was just too punk for its own good.
In fact, pretty much every extreme sports game after Tony Hawk's Pro Skater 3 lost sight of what it was that made those early games so amazing: purity.
So wave goodbye to natas spins, spine transfers, reverts and the like, because Robomodo has dialled back the core mechanics of Tony Hawk HD to reflect the simpler time in which these skate parks were first released into the wild.
Veteran players will miss a few such features to begin with, of course. But once you start learning to play by the game's rules rather than crying over the loss of those that have been established since, you'll find there's still oceans of potential for leaderboard-busting scores.
The game's critics have suggested that this streamlined approach is bad for the combo system, but the opposite is true – it makes you scout for lines that work with your limited toolset and constantly think about what you're doing rather than just relying on a safety net of 'easy mode' features that basically play the game for you.
It's a game about greed, basically. A game about pushing yourself and taking risk after risk in search of a score to wear with pride. A game about restarting seconds into a run because something wasn't quite right. A game about restarting seconds into a run even when everything is fine out of habit. A game about showing your mates who's boss with numbers so high that they sprain their necks just trying to look up at them.



---