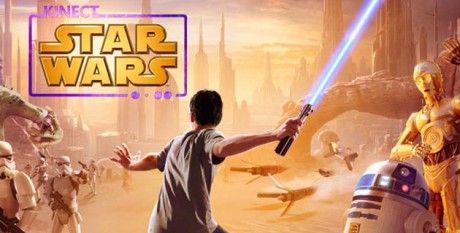 Get ready to enter the Star Wars universe in an entirely new way. Featuring iconic settings, characters and action, Kinect™ Star Wars™ puts you in the Star Wars you know and love, and lets you unleash your inner Jedi – with no controller in the way.
It's been a long time coming for Terminal Reality's Kinect Star Wars. After debuting as a proof of concept video at E3 2010, the game is finally coming out next week. Microsoft today released the final trailer for the game, which highlights its co-op lightsaber battles, pod racing, and Rancor destruction sequences. Conspicuously absent from the trailer, however, is the dancing section.
Yup, there is a dancing component a la Just Dance or Dance Central. And you thought the lightsaber fighting would make you look like you're spasming like the Star Wars kid.
Let's be honest here, there is one reason and one reason only to include Leia in her metal slave bikini dancing. Fan service. Thanknyou LucasArts, you know what 13 year old boys want more than lightsabers and mind powers.
Me? I'm way more excited to tear shit up as a rancor! I think that's the most ingenius bit of extra gameplay I've seen yet!
Kinect Star Wars will be available on April 3rd, 2012.
---